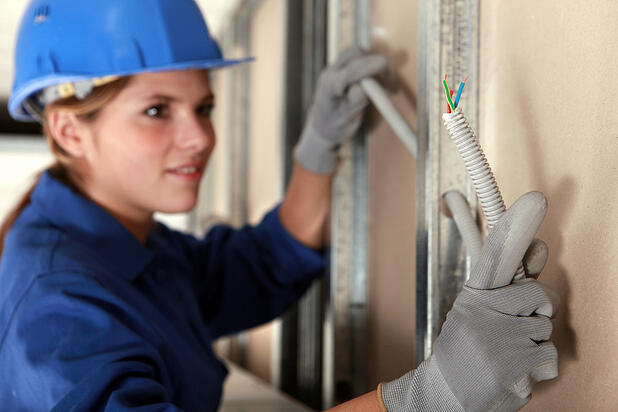 The trades in Canada face the threat of a major skilled trades shortage. Between 2014 and 2020 an expected 219,000 skilled trades workers will retire, leaving the workforce in a shortage. The labour shortage gap needs to be closed, and there is a group of people in Canada who traditionally haven't been turned to to solve this problem: women.
Women working in the trades and closing labour gaps is not a new idea at all. During WW2, women became a crucial part of closing the labour gap while men were overseas. Now, we're looking for women to be more than a short term solution. Instead, women can be and should be the long term solution for the upcoming problem.
Where are the women in skilled trades?
Currently, only 5% of skilled trades workers in Canada are women, according to Statistics Canada. Keep in mind, this includes 84% of workers in hairstyling and aesthetics being women. So while we are seeing more women in the skilled trades, we want to see more!
The Canadian Coalition of Women in Engineering, Science, Trades and Technology (CCWEST) says that women in skilled trades jobs still face large amounts of discrimination. The discrimination isn't always overt - the industry is dominated by men, and some employers might feel that women may be uncomfortable or won't fit in, but we are seeing major strides in the industry to right this.
Why should women go into the trades?
Unfortunately, the reality is that women wanting to get into the skilled trades will have barriers to . Fighting the discrimination can be difficult, however, a fulfilling career is the end result. But these discriminations are becoming increasingly fewer and further between, and we're seeing more and more women registering for Gas Technician courses to get their license and join the workforce.
Women can make as much as men working in the trades, potentially even more than some men in other fields. By working in the trades, women are contributing to the Canadian economy in a meaningful way by doing the hands-on skilled trades jobs they've always been interested in, if a little anxious about diving in.
How do we get them there?
The best way for women to get into the skilled trades is to look into a private career college for the best and fastest training possible. Ontario skilled trades training can be done in a matter of weeks, and women who want to work in a hands-on career can be ready to work in just 4 short months.
If you are a woman who is interested in becoming a Gas Technician in Ontario or know any women who have an interest in working in the trades but aren't sure how to break into it yet, we'd love to chat and show you how women are changing the face of the skilled trades industry in Ontario.