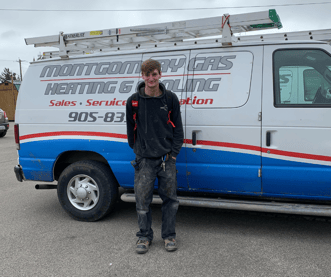 At The Skilled Trades Academies, we have many students come into our classrooms to learn the tricks of the trade and become licensed gas technicians. We are proud of each and every one of them and love when we get the opportunity to catch up with a graduate and learn what they're up to now.
We caught up with graduate Ashtyn Ahern who attended the Skilled Trades Academy after his co-op placement and now works for Montgomery Gas.
We asked Ashtyn a few questions to gain an insight into training and pursuing a career as a gas technician.

What made you decide to pursue a career in the skilled trades? Why as a gas technician specifically?
I worked as a co-op student for Montgomery Gas and enjoyed it so I decided to pursue the trade.
Why did you decide to go to the Skilled Trades Academy?
I had heard good things about the Skilled Trades Academy from friends and it was also close to home.
What were some of the benefits of attending The Skilled Trades Academy?
It was close to home and it was essentially a fast-tracking program.
How long did it take to find a job after you completed your license?
I returned to Montgomery Gas after I received my gas ticket and have been working there ever since.
How did your training prepare you for working in the industry?
The training prepared me to work in the trade day-to-day with the proper knowledge to complete daily tasks efficiently.
What do you love about working in the trades/gas industry?
I love the day-to-day jobs and work I'm doing and the fact that there is always work to be done.
What are your career goals?
To advance my knowledge and become a better gas technician so that I can work to the best of my ability.
What advice do you have for people who are considering a career in the trades?
It's a great trade to work in, I enjoy what I do and as long as you work hard you will be successful.
What advice do you have for people who are considering attending the Skilled Trades Academy? I would say it is a great school and that it is important to study and learn to the best of your ability because you will eventually be out in the field performing those tasks.
If you'd like to know more about a career as a gas technician download our free career guide or view our course calendar for upcoming course dates and take the first step to a rewarding new career.