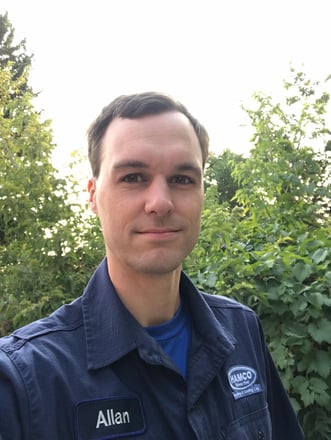 At The Skilled Trades Academies, we have many students come into our classrooms to learn the tricks of the trade and become licensed gas technicians. We are proud of each and every one of them and love when we get the opportunity to catch up with a graduate and learn what they're up to now.
We caught up with graduate Allan Tait. He's now working at Hamco Heating and Cooling and, within months of starting, was promoted to the position of Service Technician.
Here's what Allan had to say about his time at The Skilled Trades Academy and working as a Gas Technician in Ontario:
I'm honoured to be a featured graduate for Niagara and Halton Skilled Trades Academy. I thoroughly enjoyed my time there while studying in the gas technician programs.

I found out about the school through an online search and I chose the Skilled Trades Academy because of the location and because of the research I did on the school. It had a lot of good reviews and, from what I had heard, a lot of students had gained employment right after finishing the program. This was one of the deciding factors for me as I wanted to gain employment immediately after finishing my studies.

Benefits of attending the school included small class sizes for a more one-on-one approach to learning, options to do full-time or part-time studying, and the instructors stayed an hour before and after class to help us out with any questions or concerns that we may have had. Another benefit was that the school included the licensing and examination fees in the tuition fee, which enabled us to write our Gas License G3 & G2 in class.

I am currently working at a company called Hamco Heating and Cooling. I started out as an installer but within months I was promoted to the position of Service Technician where I am today a year later.

I found employment roughly 1 month after I had finished my studies with the school.

The education I had obtained while attending the school was very transferable and gave me the base knowledge to start my career.