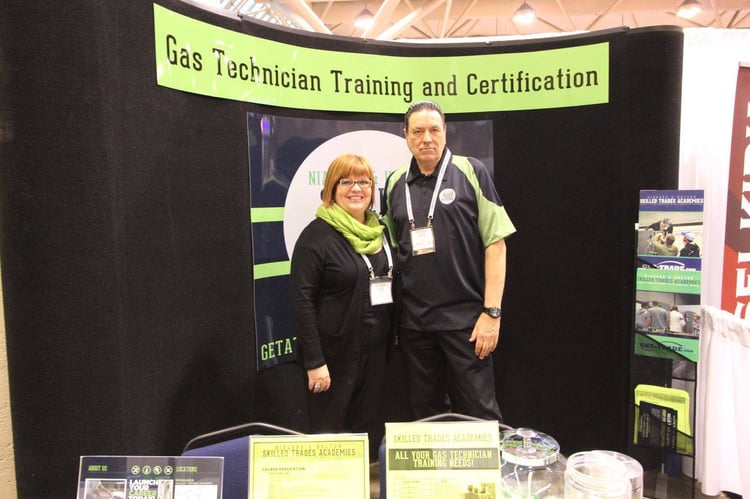 Skilled Trades career fair and trade show season is upon us, and the Niagara & Halton Skilled Trades Academies team has been busy teaching people about our programs and the gas technician industry in Ontario. Yesterday, we were thrilled to be included in the Seaway Mall career fair, which saw hundreds of Niagara residents come through and learn about the opportunities in the region.
But, with over 60 booths, we saw some very overwhelmed looking faces trying to decide who to talk to, which booth was valuable to them and how to spend the time they had at the job fair. And so, here is a list of Do's and Don'ts to help guide you as you attend skilled trades job fairs and trade shows.
The do's of attending a skilled trades fair
Do your homework in advance — Find out which skilled trades training schools are going to be there and who you would like to talk to. Check out their websites to get a feel for their courses and what makes them stand out from the rest and what else you need to know.
Write down any questions you might have (and the answers!) — As I mentioned above, skilled trades career fairs and trade shows can be overwhelming, so even if you do your research and think you have a handle on what you want to know, chances are you'll forget something. Come up with questions that build on the information you gathered from their website and jot them down. Bring the list out when you visit each booth and don't be afraid to take notes about each!
Introduce yourself — We spend a lot of time talking to a lot of people, but that doesn't mean you're just another number to us. Introduce yourself, tell us why you are interested in getting a gas technician license. We are a small private career college, and make an effort to get to know each and every one of our students.
The don'ts of attending a skilled trades fair
Don't ask questions you can Google — Odds are your time at the trade show is limited and you're going to be gathering a lot of information in a short period of time. Instead of asking about time lines, tuition or course length, take the time you have to get to know the instructors, the specialties of the trade school and what makes them stand out from the rest. The answers to the easy questions can be found in the literature they are handing out and on their website.
Don't try to talk to everyone — Again, time is limited, so make a realistic list of who to talk to and choose only those who are offering what you're looking for. Of course, allow for some extra time — you might see a skilled trades career college that you missed in the list or didn't realize had an offering you were interested in.
Don't forget to take a card — Private career colleges will have lots of brochures, business cards and literature to help you learn more about who they are and the courses they offer. Ask for a business card to make sure you can reach out if you think of any other questions and join their email list to stay up to date on the skilled trades courses they offer and their start dates.
Our next skilled trades show is CMPX 2016! Stop by Booth 935 with your list of questions — we're happy to help you learn more about the education you need for the skilled trades career you want.