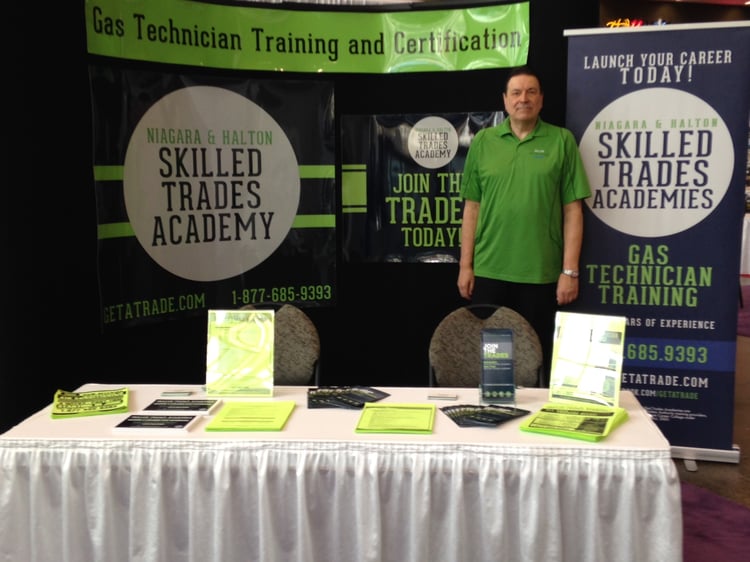 In just a few weeks, on March 16 to 18, the Niagara and Halton Skilled Trades team will be set up at CMPX 2016 to meet prospective students and showcase why The Skilled Trades Academies are the best option to complete your Gas Technician license in Ontario.
We know that Skilled Trades Career Fairs and Skilled Trades Education Fairs can seem overwhelming — there are so many booths and exhibitors who want to talk to you and teach you about their business. So, we want to help you prepare for the next trade show you attend, whether it is CMPX 2016 or another career fair.
Why attend Skilled Trades Shows?
Attending trade shows when you are evaluating skilled trades training options is a great opportunity to get acquainted with the Ontario skilled trades schools that are available. You can check out the private career colleges that you are interested in and ask the questions that will help you make an informed decision. Talking to the staff and instructors is essential to get a feel for a skilled trades training program, as well as to understand what the industry currently looks like.
How to get the most out of your time at a trade show
Make sure to plan ahead. Know who will be at the tradeshow you are attending and where you will find them so you don't miss out. Consider writing down a list of questions to ask when you visit their booths so that you can compare the answers to find the best skilled trades certification program for you.
Some questions to ask include:
"What are the requirements for your program?"
"How much does the program cost?"
"How long does it take to get my license?"
"What is your schedule like? Do you offer full-time, part-time, nights or weekend courses?"
"What does your curriculum look like? How much time is in a classroom versus in a shop or lab?"
"How successful are your graduates?"
"What kind of support do you offer to help me succeed?"
"When do your courses run?"
What is CMPX 2016?
We will be at CMPX 2016 at Booth 935 on March 16, 17 and 18 at the Metro Toronto Convention Centre. The Canadian Mechanical and Plumbing Exhibition is one of North America's largest trade shows in the industry. As a respected source for products, information, equipment and education for both industry pros and potential skilled tradespeople, CMPX is a great resource for HVAC professionals, installers, technicians, teachers and students. No other show in Canada compares with CMPX, with over 500 exhibitors giving one-on-one access to the information you need to make an informed decision about your Ontario Skilled Trades career.
We are looking forward to teaching people more about our program and the gas technician opportunities that are available across the province. See you at Booth 935 at CMPX 2016!