ESTIMATED READING TIME: 3 MINUTES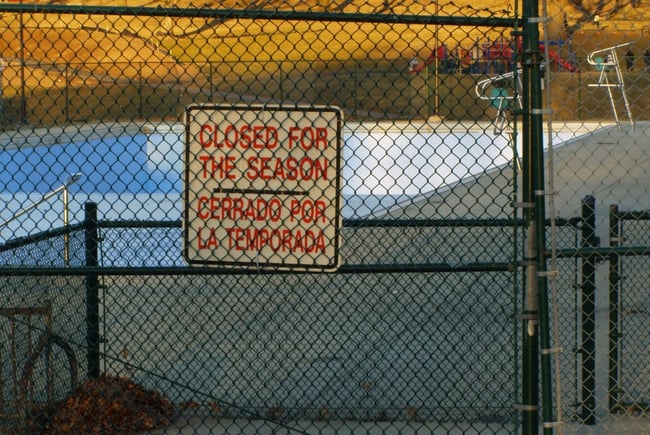 We are well into fall here in Ontario, and with the end of the summer comes the end of swimming pool season. And while for many, that simply means finding new ways to spend your time (no more floating on hot summer days!), for others it means work grinds to a halt. We're talking about those who spend the spring and summer months working in the swimming pool industry, opening, maintaining, repairing and closing pools.
While this is a very enjoyable career, once the cold weather hits, your options are to find temporary employment, work very limited hours or 6 months of unemployment. What better way to spend those 6 months than getting trained for a new career in the skilled trades?
A year-round occupation
A career as a gas technician is one that will you keep you busy all year long. Unlike working in the pool industry, with jobs that disappear as winter sets in, licensed gas technicians have no problem finding work 12 months a year. When you get your gas technician training in Ontario, including both your G3 and G2 certification, you will be licensed to work as a furnace technician, which guarantees a busy winter. And in the summer, you can expand your skill set in the swimming pool industry with the ability to install, maintain and repair gas pool heaters.
Do you really need a Gas Technician license?
You've been around pool heaters and plumbing for so long, you probably feel like going back to school won't teach you anything new. The reality is that the gas technician field is a complicated one and it is very closely regulated by the TSSA. In fact, in order to work as a Gas Technician in Ontario, you must obtain a license issued by the TSSA. It is illegal to hold gas technician jobs in Ontario without one. And because it is illegal to work as a gas fitter in Ontario without the required training and licensing, you will be hard pressed to find an employer who will hire you to work in the trades without verifying your certifications.
Not only that, with the amount of codes that must be maintained in the installation, maintenance and repair of gas appliances, including pool heaters, homeowners are also well-aware of the requirements when they are looking for a tradesperson. They know they need a licensed skilled tradesperson to perform the task, so if you can't provide the proof, you won't get the job.
Get trained quickly
To make sure you don't miss out on any opportunities in the summer months, you can get trained and fully licensed quickly now that you have some downtime. Ontario gas technician training requires training and testing, but all of this can be completed in just 17 weeks. Instead of committing yourself to a winter job that is just not as rewarding as you'd like, you can take the time you have away from your summer career to upgrade to a career that you will enjoy all year long!
Find out more about the jobs that are available to a licensed gas technician or gas fitter by downloading our Career Guide.