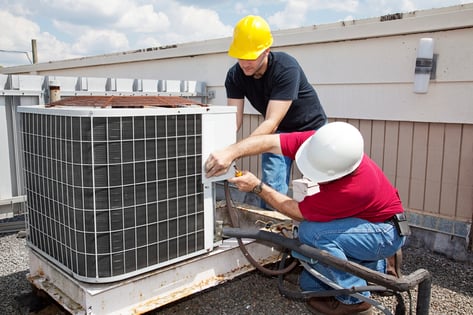 It's pretty common for people who complete their Gas Technician training in Ontario to pursue an HVAC Technician career. Many of the graduates from the Skilled Trades Academy take this path and find rewarding results in their work. HVAC Mechanics and Technicians are responsible for dealing with heating, ventilation, and air conditioning.
An Ontario Gas Fitter license the perfect first step in your journey to a rewarding career. With your Gas Technician license, you will be equipped to work on gas powered furnaces and heating systems. With your G2 license completed, you can then further your education with air conditioning courses, giving you all the knowledge you need to succeed in HVAC.
What do HVAC Technicians do?
According to the definition set by the Government of Canada, HVAC Mechanics install, maintain, and repair air conditioning systems, refrigeration systems, and combined heating, ventilation, and cooling systems. As an HVAC technician, you may find a specialty in one sector, but you are not limited. HVAC mechanics are licensed to work in residential, commercial, or industrial spaces as needed.
The best thing about an HVAC career, much like a Gas Technician career, this is a 12-month, year round job. In the summer, you will be busy working with air conditioning units, in the winter you'll work on heating systems and refrigeration systems need attention year round.
Do I need a gas tech license for HVAC?
While a gas technician and an HVAC technician are not the exact same role, there is more than enough overlap. Most heating systems require a licensed gas technician to perform all work. Most furnaces, barbecues, pool heaters and more are gas powered. If an HVAC technician does not have their G2 or G3 license, they may only be able to work on some cooling systems, or electric furnaces that do not use gas. This severely limits the work you can do, and it will become much more difficult to be hired by HVAC maintenance companies.
In Ontario, the first step to a successful career in the HVAC industry is completing a gas technician course, taking the TSSA regulated exam after your hands on gas technician hands-on training. While colleges offer courses that lead to a career in the trades, these can anywhere from 1 to 3 years to complete. Private Career Colleges offer the required training in a matter of weeks, which means you are joining the workforce (and earning money!) much faster.
After you have completed your G3 and G2 training, you will also need to further your education with air conditioning training. This can be done by taking air conditioning courses, such as the Introduction to Residential Air Conditioning course and the 313D Exam Prep courses offered at the Skilled Trades Academy.
Trade certification is mandatory in Ontario, so no matter how you decide to pursue a career in the HVAC industry, you do have to complete required courses and pass a final exam.
Do I need an HVAC apprenticeship?
An HVAC apprenticeship is expected by most HVAC technician companies. An apprenticeship will offer hands-on training in the field, and give you practical experience. The goal is that once you're hired, you'll have the experience to jump into work immediately.
Entering your apprenticeship with a gas technician license will give you an immense leg up on all of the competition in your field. You will be able to work quicker, have the skills to impress superiors, and may find yourself moving up in your career faster.
A Day in the Life of an HVAC Technician in Ontario
A common day for an HVAC professional can include any number of tasks and responsibilities, including system inspections, installations, repairing and maintaining units, and much more. It's also important that you don't overlook your customer service skills. HVAC Technicians work closely with customers, so a service-oriented attitude is essential for success.
If you're ready to start your career as an HVAC technician, your first step starts here with our Gas Technician 3 course. Get in touch with a member of the Skilled Trades Academy team to talk about how we can help you prepare for your career with your G3 and G2 license. Click below to contact a member of our team and kickstart your career.