ESTIMATED READING TIME: 3 MINUTES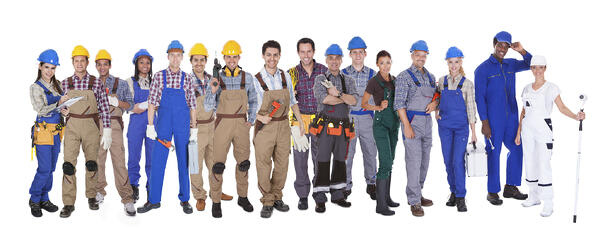 For the last 15 years, it has been all about working in the business world. People were going to university and studying to achieve that corner office job. Now, youth still think that's where the good jobs are, even though there are fewer opportunities. The job market is definitely in recovery mode after our economy's nosedive but university graduates are not seeing the same success as they used to. It's time young people started looking at other options for steady well-paying jobs.
Skilled trades jobs are the alternative young people should be considering. They are on par with those office jobs that used to be so desirable — we've already talked about the myths that need busting. The simple reality is that skilled trades need to be better promoted as viable options to young people so that they can make informed decisions about the post-secondary education they pursue and the jobs that will be waiting for them.
Benefit Four: Canada needs Skilled Trades Workers
The last time we talked about the benefits of working in the skilled trades, we talked about job security. That's all well and good, but if you can't find a job to begin with, who cares about keeping it once you have it? The good news is, when you are considering a career in the skilled trades, jobs are plentiful.
We know we've said it time and time again, but we just can't say it enough: Canada needs skilled trades workers! The condition of Canada's labour market has a serious skills gap now and it is only expected to increase in the coming years. So why aren't we encouraging more young people and people looking for second careers to consider the trades?
The stats
In the next twenty years, it has been predicted that 40% of new jobs will be in the skilled trades and technology industry. This is more than double the number of trades jobs that existed 15 years ago.
In Canada, the shortage of skilled trades workers has been estimated at around 50,000 unfilled opportunities. This number is rising as baby boomers retire.
Skills Canada estimates that 1 million skilled trades workers will be needed across ths country by 2020.
Construction, mining and petroleum sectors are suffering from a serious need of licensed trades people. This shortage will continue to grow in the next ten years.
So why not consider the trades?
In a study conducted by the Canadian Apprenticeship Forum and Skills Canada, it was found that:
42% of Canadian youth say that are unlikely to consider a skilled trades career. Only 26% said they would consider a career in the trades.
67% of youth would choose university as their first option for post-secondary education.
55% of adults consider university as the first choice in post-secondary education.
60% of young Canadians said their parents have not encouraged them to consider a careers in the skilled trades.
Those last two points are a concern in Canada, but one that is being re-examined. It is so important to let students know about all the options available, and yet the trades are often overlooked despite the high levels of available employment. Luckily, there are programs popping up across the country that are encouraging students to consider their options. Hopefully this trend continues — otherwise, Canada is going to be in a tough spot, trying to fill so many job opportunities.