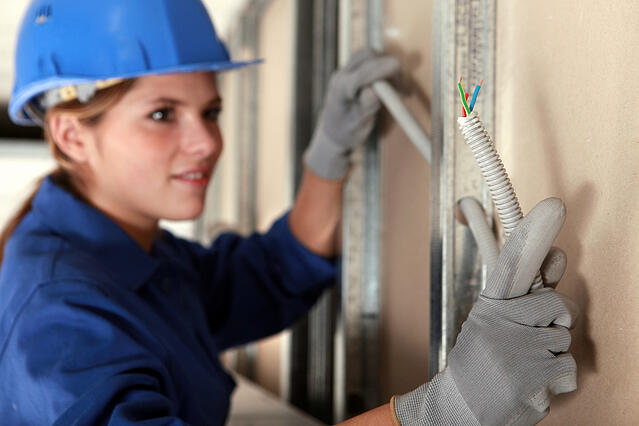 On March 8, the Niagara Skilled Trades Academy joined the world in celebrating International Women's Day. If you know us, you know that this day is very important to us as we recognize the value of female trades workers and encourage young women to pursue opportunities in the gas technician industry. Since World War 2, when women were a critical part of the skilled trades industries, the number of women entering our field has dwindled, but in recent years we are happy to report that the number of female workers in the trades has once again started to rise as more women are embracing the trades as an exciting and rewarding career opportunity!
A Place For Women In Gas Tech
Women make up 50.4% of the Canadian population and about 48% of the general workforce. Within the skilled trades, however, women only make up approximately 5% of the workforce. Something doesn't quite add up, right? And believe it or not, this includes all skilled trades, like hairstyling and aesthetics which predominantly employ women! Certain trades, including gas technician, can still seem a bit like a "boys club" but there are many women entering the trades and working to break down those barriers.
Canada is facing a skilled trades labour shortage, which gives women even more opportunity in the trades. As more trades workers retire, the shortage of workers increases and female graduates of gas technician training programs can help fill this gap. As with most male-dominated fields, when women are hired into a company it increases the likelihood that more women will consider the career and be hired. This ripple effect is happening throughout the trades in Canada as more women enter into programs like gas technician training and graduate as certified gas technicians.
#PressForProgress In The Trades
The Skilled Trades Academy has many successful female graduates already, and we welcome more women into our programs every year. We are excited to see the change in the Gas Tech industry and seeing women enter into the trades upon completion of our courses.
This year, the IWD theme is #PressForProgress, and that's the call that we're sending out to all women considering the trades but wary of these male-dominated fields. A survey of 826 men and women about the trades found that women are discouraged from careers in the trades because of how male-dominated the field currently is. This is why we're encouraging young women to take on gas technician training opportunities and press for progress in the industry to increase the number of women finding their passion as a gas tech. It is time to break the cycle of women feeling discouraged to follow their passions, and open the doors for women in the skilled trades.
Train With The Best For Your Career
As women embarking on a career as an Ontario gas technician, it's important to get the best training possible. With training at a private career college, you can get fast, hands-on training to help you succeed once you get into the workforce. With this training, you can earn your G3 and G2 license and be working in the gas tech industry in just 17 weeks.
If you're ready to take the next steps, our upcoming Gas Technician 3 course begins on March 12. Click below for more information and to secure your seat.