ESTIMATED READING TIME: 3 MINUTES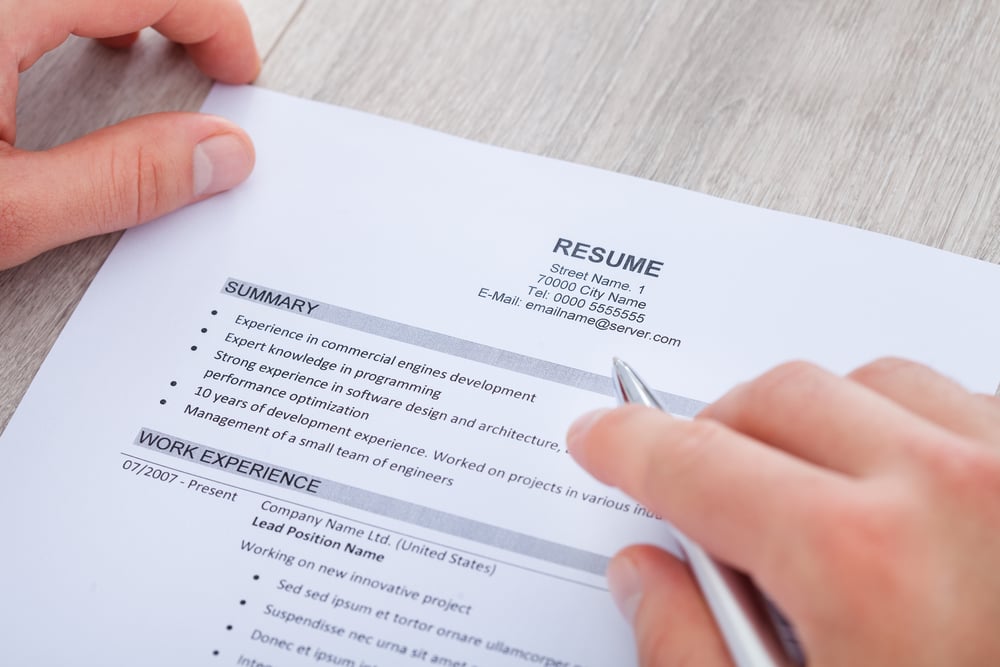 Having the right education, skills and certification is essential to get a rewarding career in the skilled trades. But there is one more tool you need to show employers that you are the right choice — your resume. A good resume highlights your relevant skills, experience, education and value to your potential employer, boosting your chances of getting an interview and ultimately, the job. There are some basic principle to to follow when writing your resume — here are some tips to get you noticed by your next employer.
Resume Presentation
Your resume should be well-presented and easy to follow. Employers are busy people, and if they are looking to hire a new employee, they are likely understaffed when they look at your application. With that in mind, they may only have a few minutes to look at your resume — if you're lucky.
Keep your resume to two pages with a simple font. Highlight sections like "WORK EXPERIENCE" and "EDUCATION" in bold of capitals to draw your potential employers attention to the right sections of your resume.
Layout your employment history and education in chronological order, beginning with what is most recent. If your work history is broken up due to career breaks or a periods of unemployment, be sure to include a skills summary that outlines why you are qualified followed by an overview of the work you have done in the past.
Content
An employer expects the following information on your resume:
Personal information
Include your full name, address, phone numbers and email address.
Professional qualifications
If you are a licensed Gas Technician, be sure to highlight that qualification, complete with the name of the school where you received it and the time you attended.
Work experience
Beginning with your most recent position, describe your work experience in short sentences with straight-forward and positive language. Be sure to fully describe the job and demonstrate any general qualities you gained from the experience.
Education
List brief details of qualifications and education, such as trades certificates, First Aid, drivers license and other important information. Include your schools' full names and locations.
Skills
List specific skills (like reading blue prints, for example) in full. Do not assume your potential employer will understand acronyms or abbreviations.
Volunteer experience
Volunteer experience shows an employer that you are engaged in your community, so be sure to include a list of any volunteer positions you have held.
References
Employers usually expect you to provide the names and contact information of three work references, one of whom should be your most recent employer. If you are a recent graduate with little work experience, include an instructor. Be sure you have spoken with your references in advance to get their permission to use them on your resume.
Do's and Don't's
DO use a confident tone and positive language.
DO concentrate on achievements, not responsibilities. For example, list things you have done. instead of rewriting your job description.
DO keep it to the point and concentrate on quality, not quantity.
DO check thoroughly for correct spelling and grammar. Have someone proofread your resume before you send it.
DO submit your resume as requested, in the proper format and through the proper channels.
DON'T leave gaps in your work record. Employers may assume the worst and think you were fired, even if it's not the case.
DON'T lie. Employers will fact check your resume for accuracy.
DON'T use elaborate fonts and colours — keep it simple and easy to read
Most importantly, don't forget that your resume is a tool for getting you an interview — it will not land you the job on its own, you will have to do some work when you meet your potential employer. But once you have the hands-on training and certification you need, dazzling your future employer should be easy and you will have that skilled trades job in no time!