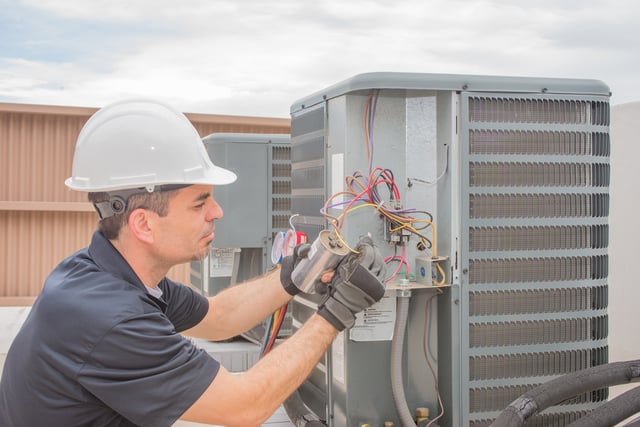 Job satisfaction, security, in-demand skills and year-round work - just some of the benefits of being a certified Gas Technician. They say that the average person spends nearly one-third of their life at work so a fulfilling career choice is incredibly important.
As a certified Gas Technician, no two days are the same, you work in a number of different environments such as residential homes, commercial buildings, or even on construction sites. When working as a gas fitter you see physical proof of your labour at the end of every service call or installation. Being able to solve problems and see the results of your hard work gives a huge sense of achievement and job satisfaction. If that's not good enough, here are some more benefits of becoming a certified gas technician.
Job Security
Unlike many other career fields where job security may be uncertain, a lot of skilled trades jobs present a great deal of security for tradespeople. The Ontario Government recently released its list of essential business services for the province during the Covid-19 pandemic which included gas technicians as they provide support and maintenance services, including urgent repair, to maintain the safety, security and essential operation of institutional, commercial industrial and residential properties. The skilled trades industry is facing a labour gap due to the ageing workforce, and as tradespeople become more and more in demand, it becomes more likely that those who graduate from skilled trades training programs will find work and a rewarding career.
Year-Round Work
Choosing Gas Technician training offers an additional level of security that other trades do not offer. Licensed gas technicians find work all year round. There is no off-season, as gas technicians are able to keep busy throughout the cold and warmer months. As a gas technician, jobs don't slow down once homes don't need their furnaces to be on anymore. Gas fitting is a 12 month a year career, with no shortage of job opportunities in the summer. Gas barbecues, pool heaters, and outdoor fireplaces require maintenance or installation which will fill up a gas fitter's summer months.
Gas technicians can also expand the work they do in the summer by taking air conditioning courses to become certified to work on residential, commercial, and industrial AC units. With this extra training, there is never a slow season for gas technicians, and there will always be work available.
Competitive Pay
The salary of a gas tech worker can be very competitive. It's important to rely on any industry connections in locating the right company to work with and then working hard to remain competitive in the company. This means continuously improving yourself, through upgrading your education (like enrolling an Air Conditioning course) and improving our customer service skills. Continuously improving yourself and making yourself more valuable to the company you work for will increase the amount that you will earn.
Being able to work all year round also increases the yearly earnings of a licensed gas technician. The busier you are, the more you will earn.
Room For Growth
Once your Ontario Gas Technician training is completed and you enter the workforce, you will find that there is a tremendous opportunity for career advancements. While you work as a gas fitter, you can continue to take extra courses to enhance your technical knowledge and skill set, and as a result, spur growth in your career.
It is common for students who graduate from our skilled trades program to continue their education with air conditioning and refrigeration, plumbing, sheet metal, and mechanical courses and apprenticeships. For students who do not wish to continue with an apprenticeship, many students complete the course and find work in appliance servicing or working for heating companies, jobs that do not require apprenticeships after completing their gas technician course.
As you work in Ontario skilled trades jobs, it is important to note that learning never really stops. Heating systems and appliances are changing and innovating regularly, so you will always need to be knowledgeable about the devices and appliances you are working on which keeps the job interesting and exciting.
This may seem daunting, but staying up to date on the systems you are servicing can give you the edge you need to grow quickly in your field.
Potential for Entrepreneurship
Just as there is great potential for growth, there is also the potential for entrepreneurship in the gas tech industry. If you have ever considered starting your own company and working for yourself, there is an opportunity for this in the gas fitting industry.
In order to do this effectively, you will need to build up a network of clients and customers, and build solid relationships with them. With these relationships can come referrals, to continue to grow your own business. If this is something you have always been interested in, don't feel limited by trades - let the trades kickstart your career. Seize the opportunity to have a fulfilling career doing what you love while working for yourself.
A career as a gas technician could be for you
If the above sounds like something you could get on board with, we would love to hear from you. The Niagara and Halton Skilled Trades Academies offer all levels of Gas Technician training as well as courses on residential air conditioning, ozone depletion prevention and depending on demand, courses on working at heights and the Workplace Hazardous Materials Information System (WHMIS) program. Our flexible courses can be taken on a full or part-time basis and our technologically advanced classrooms, labs and shops provide the best hands-on learning experience possible to prepare students for the working world quickly and efficiently. Our talented team of educators are people who have completed the training and understand the fundamentals of working in the field. When you study at the Niagara and Halton Skilled Trades Academies you are gaining the expertise of experienced skilled trades professionals and access to an exciting new career path.
Intrigued and want to know more? Click below for more information and helpful guidance on how to kick start your new career.