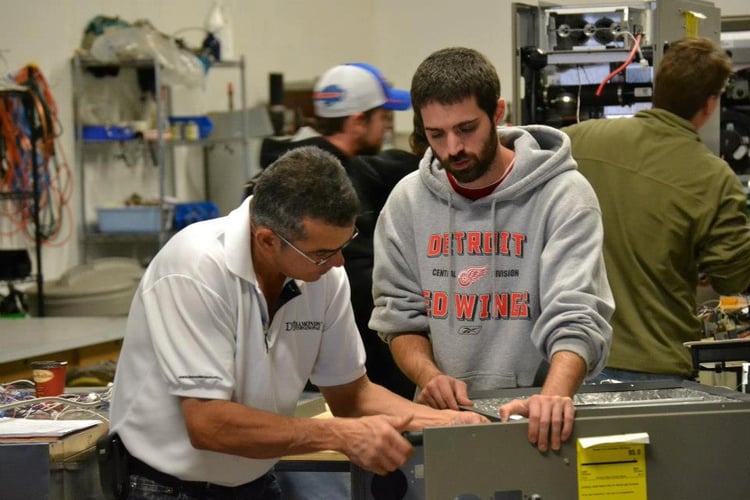 A few weeks ago, I talked about some of the obstacles that mature students face when they decide to go back to school for second career training. With the summer quickly coming to an end and September right around the corner, registration for skilled trades courses in Ontario is getting busy and classes are filling up.
I know that choosing to go back to school as an adult student is overwhelming, even if you love learning. You've been out of school for a while, and working in the real world for years (which can be very different than learning in a classroom). Luckily, if you find the right private career college offering skilled trades training, you'll be taught in a workshop with hands-on education. The decision doesn't have to be difficult.
If you're thinking of going back to school in September as an adult, the time to make your decision is now. Here are a few tips to help you out.
Find the right private career college opportunity for you
If you are thinking about returning to school after a few years in the workforce, you probably aren't looking to spend years back in school. You will want to complete your training as quickly as possible to get back to working and making money. There are many education opportunities for non-traditional students that result in full certifications — like getting your gas technician license in Ontario. At the Skilled Trades Academies, we offer full-time courses that are complete in just 17 weeks. That means you are ready to work in just a few months, fully certified.
Go in and talk to Student Services at your different schooling options. Find out how their programs run and how that benefits you as a mature student. Look for a program that typically has a number of mature students that come through their programs so that you know they have worked with students in a similar situation as you.
Don't be afraid to go back to school
If you have been out of the classroom for years, you may be afraid to go back. While many mature students are nervous about whether or not they can compete with younger students who are just out of university, the truth is that these younger students are probably nervous about going to school with adults with years of real world experience.
Remember, you have had time to experience the working world and gain skills outside of a traditional classroom, giving you the opportunity to perfect the skills they don't teach in high school, like organization, time management, focus, and interpersonal skills. Don't look at your years out of school as a disadvantage — they are beneficial to your experience in a trade school!
Keep your eyes on the finish line (your skilled trades license!)
Whatever you do, once you start, don't lose sight of the end goal: your gas technician license. If a class assignment is difficult, don't give up, ask your instructor for help! Ensure you choose an Ontario skilled trades school with small class sizes so that you know your instructor will have one-on-one time.
And if you feel our of your element and are wondering if getting your license is really necessary, remind yourself why you registered for the class to begin with. You took your time in making this decision, and the career you will get from completing this education is important to you. Do whatever it takes to remember the goal, surround yourself with a support system of people who want to see you succeed and don't be afraid to talk to your instructor if you are struggling.