ESTIMATED READING TIME: 3 MINUTES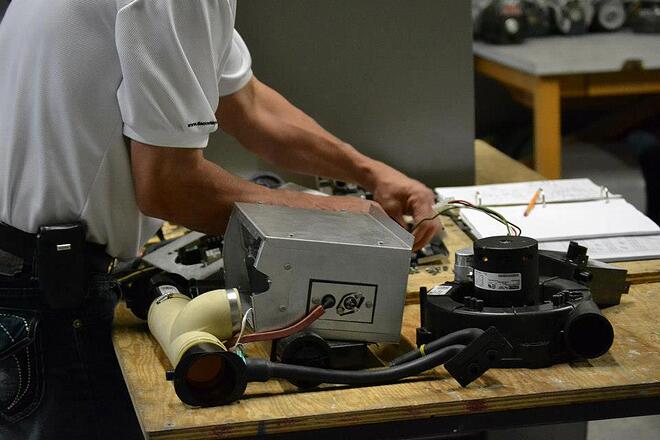 Completing your gas technician license is a step in the right direction to becoming fully certified as a Gas Technician ready to enter the workforce. Getting your gas technician license can be a costly and long process, but a private career college will save you time and money and excel your career.
Cost + Time
The faster that you are done and are a graduate from TSSA G3 or G2 programs the less time you are investing in education. College programs typically run for 2 years, which is a long time to commit yourself to education, in a field that offers quicker solutions. Add in the added expenses of cost of living and tuition which can add up quickly. Obtaining your gas technician license in Ontario from a private school is a quicker solution with programs only taking 17 weeks. Let's look at an example of costing out 2 years:
Gas Technician 3:
54 week program at a registered Ontario College:
2 days a week, September 2015 - January 2016
Total 156 hours
Cost does not include cost of course textbooks
Total: $1,144
Gas Technician 2:
A two-semester program at a registered Ontario College:
5 days a week September 2015 - April 2016
Tuition: $3,317

Compulsory Ancillary: $1,057

Cost does not include cost of course textbooks
Total: $4,375

Total cost of combined G3, G2 licenses (not including exams and text books and code book): $5,519
And don't forget, when you factor in the cost of exams, textbooks, code books and tools, you are looking at spending another $1,000 quite easily, not counting cost of living, which you will find below.
Cost of Living
Depending where you live, cost-of-living will be cheaper so this is just an approximation of the cost of living away from home while going to school.
$550 per month rent

$150 per month food

$175 bus pass

$100 per month entertainment
Total cost living away from home for 1 year: $8775
By looking at the expenses we have mapped out, if you are looking for a less expensive and shorter term solution for completing your Gas Technician licenses, living away from home at college is not the best solution. Completing the licenses is possible with shorter programs, and you will not suffer from a shortage of education or experience — in fact, in a private career college, you can benefit from different styles of learning that are often more successful.
Work Experience
By finishing your certifications more quickly with a private career college instead of a traditional college program, you have the option to be working sooner, which means making money sooner. The career options for these programs are plenty and they range vastly, from gas fitter to mechanic for gas pipes, to furnace converter. There are plenty of career options, and room for growth within companies.
And by completing your education more quickly, giving you more time in the workforce, you gain more experience to move up i your career. Once you are working in the skilled trades, the education and real world, hands-on learning will truly benefit your job options and opportunities.
The skilled trades are an in-demand and growing industry within Ontario and essential to Canada's economy. Becoming certified faster has many benefits that will allow you to kick-start your career in the right direction. If hands-on, interactive and career-focused sounds like you, then look no further than the Niagara and Halton Skilled Trade Academy. We can get you ready to join the workforce in just 17 weeks.