ESTIMATED READING TIME: 3 MINUTES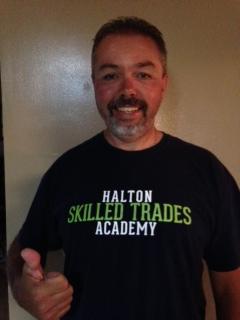 Niagara and Halton Skilled Trades Academies are proud of all of our graduates and love sharing their stories. Rick Sifft is a very recent graduate from the Halton Skilled Trades Acaedmy — he graduated with his Gas Technician 3 and 2 certifications this month! Rick has many leads since graduating and is now deciding which direction to take with his new career (we know we'll have an update about this soon!). He took the time to tell us why he chose to pursue a career in the skilled trades and an education at the Halton Skilled Trades Academy.
What made you decide to attend the Halton Skilled Trades Academy?
"I wanted a career change and gain the knowledge of a specialty trade. I decided to go to Halton Skilled Trades Acedmy when I saw an ad in the Brant News."
What were the best parts of the program for you?
"Our teacher was very involved in ensuring the success of each student. We were able to apply the skills learned in the classroom and practice with hands-on training in the shop. And at the end of each week, we were able to sit down and share ideas and lessons with each other at a weekly barbecue."
How did your education at the Halton Skilled Trades Academy prepare you for the working world?
"Because we learned in a hands-on environment, we are completely prepared for real-life situationsin a variety of different jobs.
Why would you recomment the Skilled Trades Academy to others considering a career in the skilled trades?
"The teaching staff is great and the school has a great success rate!"
What advice do you have to people who are thinking about coming to the Skilled Trades Academy and considering a career in the skilled trades?
"Don't be hesitant! This is a great, life-changing opportunity! There is a high demand for people in the skilled trades and you could benefit from the potential of slary increases, the opportunity to be your own boss with your own business and you will learn skills that can be used in a variety skilled trades jobs."