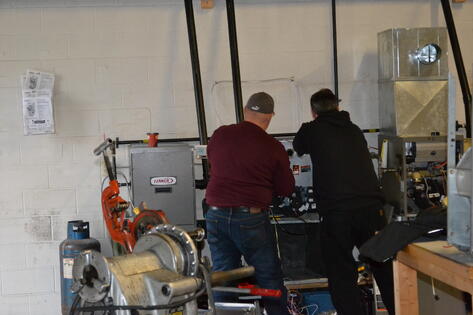 When considering an education as a Gas Technician, you will see that there are a few different levels of certification available, from G3 to G1. Of course, the more training you receive, the more skilled trades careers and opportunities will be available.
A question we receive often is how to know which levels you should complete for a rewarding career in the skilled trades in Ontario. To help you understand where to start, and what steps you need to take to succeed in Ontario gas technician jobs, we put together a guide. Here is a quick look at what each level entails and what it takes to upgrade from one level to the next.
Gas Technician 3
The starting point in Gas Technician training is to complete a G3 certification training program. The Gas Technician 3 program is the first level of licensing and is required to continue to the Gas Technician 2 license. During your 5-week program, should you choose the intensive, hands-on training provided by the Skilled Trades Academy, you will learn all of the skills that will be essential when you enter the workforce. This includes safety, tools and testing instruments, the properties of fuel gases, codes, acts and regulations, an intro to electricity, customer relations and more.
When you enter the working world with a G3 license, you will be working under the direct supervision of a certified G1 or G2 licensed Gas Technician. In order to work without supervision, you will need to complete your G2 license. With only your G3, you will be licensed to install, activate or purge gas piping or tubing that is less than 2 inches in diametre and reactivate previously installed or converted natural gas or propane appliances. Many of the students who attend the Skilled Trades Academy choose to get their G3 and G2 very soon after one another.
Gas Technician 2
To enroll in the Gas Technician 2 course you must have completed your Gas Technician 3 training. Upon completion of the Gas Technician 2 course, students will have the ability to work independently on gas technician jobs in Ontario, handling equipment up to and including 400,000 BTUs. This is a 12-week program (when you choose to attend the Skilled Trades Academy), during which you will learn about advanced piping and tubing, basic electricity, controls, domestic gas appliances, meters, regulators and containers, heaters, air handling systems and more.
A certified G2 technician in Ontario may install, inspect, alter, purge, activate, repair, service or remove a natural gas or propane appliance and the equipment and accessories essential to its operation, unsupervised.
Gas Technician 1
The Gas Technician 1 license is the highest level of certification. To enroll in the certification, you must have proof of work experience of 2 years (4000 hours) in the field as a certified Gas Technician 2, including 500 hours on systems with a firing rate in excess of 400,000 BTUs. This can only be accomplished if you have obtained your G3 and G2 licenses. Those who enter the workforce with the goal of entrepreneurship or quick upward movement through another company are likely to aim for their Gas Technician 1 certification.
Want to know more about what it takes to become a certified Gas Technician? We'd love to give you more information about how you can be fully trained as a Gas Technician 2 in just 17 weeks! Click below to get in contact with a member of our team for more information on what it takes to become a certified Gas Technician.
If you know you're interested, you can check out our course calendar here. If we are offering a course that you're interested in taking, register online. The Skilled Trades Academy offers small class sizes, and registering online will secure your seat.